This page was last updated on: September 9, 2014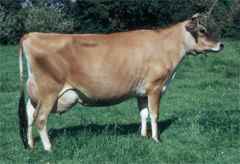 Jersey cattle have been raised pure on the island of Jersey for several centuries.  Cattle from France were probably the genetic forebears of the modern Jersey, as the island remained connected to the mainland of France until about 700 A.D.  Eric Boston, in his work titled "Jersey Cattle" published in 1954, stated that at least four sources seemed to contribute to the development of the breed.  These were 1) the little black or dark red Bos longifrons, sometimes called the marsh cow or Celtic shorthorn; 2) the fawn or yellow race (possibly with some zebu blood), relative of some of the blonde races of France, Germany, Italy, or Switzerland; 3) dun cattle, probably polled, from Scandinavia; and 4) the black and white or red and white dairy cow which was found along the north European coast.

A recent paper by Mrs. Anne Perchard, then President of the World Jersey Cattle Bureau, stated in 1998 that a George Poingdestre took Jersey cattle from the island to America when he emigrated in 1657, majing that the first known reference to Jerseys in North America.  However, larger numbers of animals were imported only after 1850.  The American Jersey Cattle Club was founded in 1868.  Today the organization is known as the American Jersey Cattle Association and has its headquarters in Reynoldsburg, Ohio.